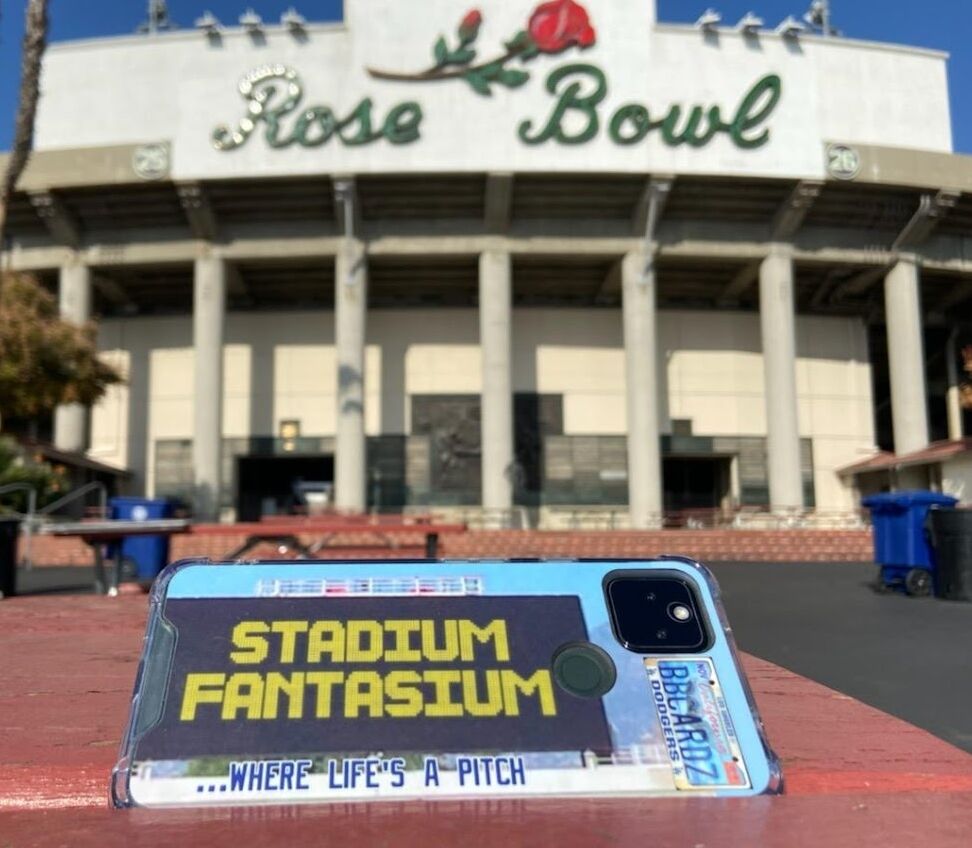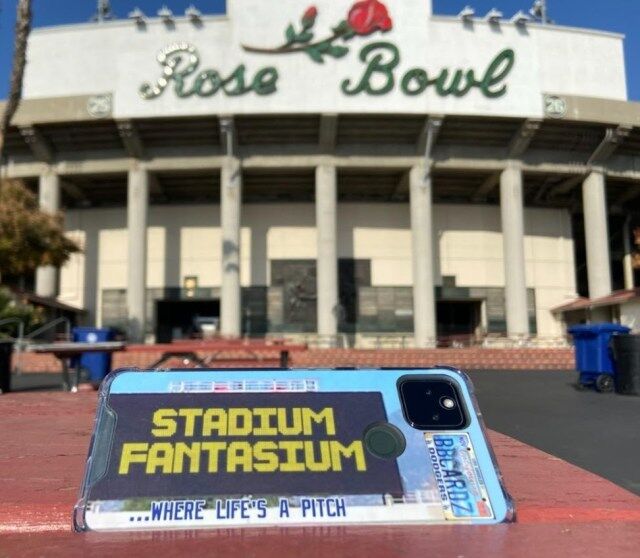 With Major League Baseball in a kind of off-season suspended animation, we now turn our attention to football (but with football and baseball cards featured at the end of this post).
January certainly started off with a bang. On a beautiful January 1st, it would have been nice to stay home and watch the Bowl games but one of my jobs is actually working at the Rose Bowl (which includes the Rose Bowl game). Covid notwithstanding, a huge crowd witnessed a THRILLER Rose Bowl Game between the Ohio State Buckeyes and Utah Utes with the Rose Bowl Game trophy (also known as the Leishman Trophy) at stake..
Part of the spectacle of the Rose Bowl Game is the sight of the Goodyear blimp floating high over the stadium and then seeing the military flyover at the end of the National Anthem. Click the images to enlarge.
The game itself was also awesome as Utah lived up to expectations and then some, giving Ohio State all it could handle by taking a 35-21 halftime lead. But Ohio State persevered and came up with a game-winning field goal with nine seconds left in the fourth quarter to give Ohio State their ninth Rose Bowl win, 48-45.
I couldn't believe it but by the end of the day, I had walked over 12 miles! And I couldn't wait to get home and rest my feet. Here's a postgame look outside each team's locker room as each school's staff/roadies pack up to return to their respective schools:
The next day, instead of staying home to rest my feet and watch football (Week 17 of the NFL schedule), I had to go to work at my other job at Sofi Stadium where the Chargers were hosting the Broncos. It's quite a contrast working one day at a stadium that opened in 1922 and then to work the next day at a state-of-the-art stadium. Sofi Stadium is a magnificent stadium but it could be claimed that if it weren't for the field and the video board, the stadium would be nearly colorless. Here's some pics I took from various locations in the stadium. Most of them were taken before the stadium gates were opened to admit fans.
Fortunately, the Chargers did defeat the Broncos, 34-13 to keep their playoff hopes alive for another week. Unfortunately the following Sunday, the Chargers narrowly lost to the Raiders in Las Vegas and missed out on advancing to the playoffs as a wild-card team.
The same day that the Chargers played the Raiders, the Rams hosted the 49ers (NFL Week 18). I worked that game too and was also surprised at the large 49ers turnout.
The Rams were dominant in the first half and had a 17-0 halftime lead. But the 49ers still had some fight in them and won 27-24 in overtime. Thanks to the Seahawks defeat of the Cardinals, the Rams still won the NFC West but dropped to the 4th seed. Still, it meant we would be working a home playoff game next week.
As it turned out, the Rams were to play the Arizona Cardinals in the first ever Monday Night Football playoff game (January 17th). Thankfully, Rams fans turned out in force for that game.
I don't collect any recent football card sets but I did find that the main team store at Sofi Stadium does sell Donruss team sets of the home team (at $10 each).
The day may have started with some dreary rainy weather in the morning but everything was great after that with a rainbow sighting and a 34-11 Rams victory.
With the Tampa Bay Buccaneers defeating the Philadelphia Eagles, that meant the Rams next playoff game would be on the road in Tampa Bay. As you may know by now, The Rams went on to beat the Buccaneers in another THRILLER game, 30-27.
Being a Los Angeles Rams fan since childhood and now working home games, I was hoping for another home playoff game for the Rams. But it could only happen if the Rams won and the 49ers beat Dallas in Dallas the day before. And it happened! Both the Rams and 49ers won to set up a big NFC Championship showdown on Sunday January 30th.
And now for something pretty different–Monster Truck Racing at Angel Stadium! My Sofi Stadium employer needed more workers for their account at Angel Stadium so I signed up for the January 23-23 two-day event.
Angel Stadium hosted it's first Angel games back in 1966 and underwent some major renovation in the mid-late 90's. Although Angel Stadium is not exactly state-of-the-art, it's still a pretty good-looking stadium with much more color than Sofi Stadium.
Both days of Monster Truck racing were very busy–so busy that I only had time to snap a few pre-event pictures. I'm not into Monster Trucks but it probably would have been pretty cool to feature some images of Monster Truck action here–D'OH!
So it's been an exciting and busy January. Speaking of exciting and busy, I had been meaning to show off some football and baseball cards I acquired in a May 2021 TCDb (Trading Card Database) trade with fellow TCDb member JEGoethe. I sent a bunch of my duplicates (all baseball) from 1993 Topps Gold and 2018 Topps Heritage, In return I got a bunch of 1970 Topps Football, 1984 Topps Baseball and 2021 Topps Heritage Baseball. These cards really helped me out with my setbuilds. This trade is one of the largest trades I've ever done. This swap involved 188 cards but that pales in comparison to much larger trades made by some other TCDb members. I also love that these cards were all near-mint, especially because that's my preference for older cards.
I didn't show all of the 2021 Topps Heritage I got But suffice to say I'm now only two cards short of completing the non-SP portion of regular 2021 Topps Heritage (cards 1-400). I'm excited about that but of course I still have a ton of the SPs to acquire. I'm also excited that I think I may have completed the 1984 Topps baseball set. I still need to more thoroughly inventory those cards to know for sure. And of course it's exciting to know that I'm only about 25 cards short of completing the 1970 Topps football set.
So while I continue to work on these and other sets, I'll be working more events in the next few weeks. First up is an AMA (American Motorcyclist Association) Supercross event on Saturday January 29th at Angel Stadium. The next day I'll be working at Sofi for the Rams-49ers NFC Championship game. I've also been scheduled to work the NFL Super Bowl Experience at the Los Angeles Convention Center in February. It's basically a Super Bowl FanFest that includes Super Bowl-themed games, youth football clinics, exhibits (past Super Bowl rings, the Vince Lombardi Trophy, etc.) and autograph signings of current and former NFL players (sponsored by Panini). And then I'll also be at Sofi on Sunday February 13th for the BIg Game (aka Super Bowl LVI).
Oh, and just in case you were wondering about the top photo, that's a picture of my new phone with a new custom Stadium Fantasium case (I really needed to replace my eight-year-old Samsung Galaxy 4, lol). I'm still not sure how to balance work with steady blogging and still work on my collection but I will do my best. Stay tuned…